Packers and Movers in Ernakulam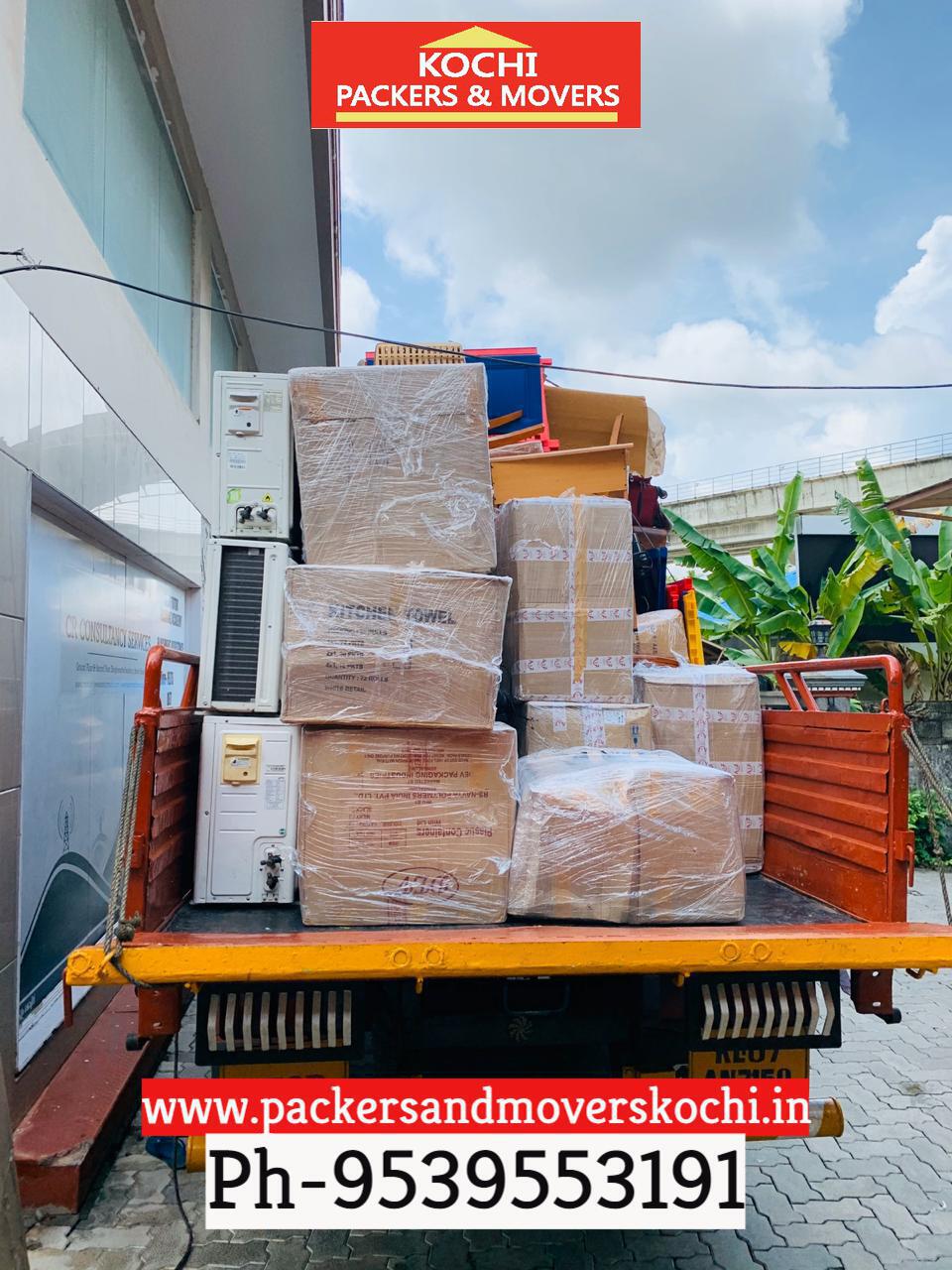 Why Choose Kochi Packers and Movers
Packers and Movers Kochi are highly valued by the patrons for specialties such as efficiency, prompt work, and trustworthiness. We are a brand in the packing and moving industry, offering a broad range of moving services throughout Ernakulam. We have a dedicated team who are deeply committed to providing the best moving and packing services in Ernakulam. We have a huge client base and great customer reviews. We try our best to provide trouble-free moving and packing services and to provide the best trustworthy and reliable packer services. We offer you with rates that are very pocket-friendly. Our quality at that rate will be very great and will be focused on moving your items to the desired location with ease. Having vast expertise in this field, we can effectively manage a number of types of services in an appropriate manner. So, when you hire us as for your packing and moving service, we provide you with the most innovative services that are always enough to satisfy your needs
.
What we do?
Transport of items: Packing of items and shifting them from one place to another
Unscrewing of furniture, cupboards, etc. for easy transport. Reassembling of furniture
AC dismantling and fixing it in the new location
Quality packaging with boxes, cardboard rolls, plastics, bubble wraps, packaging tapes, straps, ropes, and other materials to ensure the safety of your valuables while transferring them
Our professional team is very good at bringing you the complete loading and unloading services to customers around Ernakulam
Once the goods have been moved, our team will rearrange and re-fix all your furniture and other household items.
We use the best quality packaging equipment and the right tools to ensure that delicate and fragile items do not get damaged while packing them to move to a new location
Special containers or trucks have been used to transport cars and bicycles. These trucks are equipped with advanced technology such as a tyre locking system and other modern transporting strategies.
Choose the best services available
Migration, whether it's a family unit or a company, can be a difficult task. One can turn this confused assignment into less demanding and more straightforward by leasing work to Movers and Packers Ernakulam. We are a very professional organization offering a wide range of relocation services and moving services. Trust and the best quality work is what we deliver to our customers.
Our team
Working as one of the top packers and movers in Ernakulam, we have highly skilled staff to provide high-quality support to our clients. Employees of Packers and Movers in Ernakulam have great knowledge of packing your sofa, refrigerator, sleeping bed, motorcycle, TV, air conditioner, (AC), chairs, boxes, decorations, articles, and the list goes on. The team of professionals from Movers and Packers in Ernakulam also carries out safe loading in a truck and also unloads your luggage and places it safely at your delivery point.
Safe and Secure Shifting
Shifting is made easier by our Professional Packers and Movers Ernakulam team of highly skilled and experienced professionals who go far beyond their customer satisfaction to offer the best shifting service as desired and expected.
Transportation
We have maintained a large fleet of advanced and high-capacity vehicles having adequate space to accommodate your goods. We have trained and experienced transport team to ensure the hassle-free handling of your goods. Our modern fleet of vehicles includes heavy-duty trucks, mini-trucks, and containers (for transportation of vehicles). This makes your experience of moving and packing delightful in Ernakulam.
How do we pack up expensive items?
We have advanced packaging items and materials with us. We also use world-class packaging solutions for your vehicles to make sure their safety throughout the journey. So, when you choose our services, don't worry about how packaging works. We have got wooden boxes to move expensive things like TV, computer, laptops, home theater systems, etc. Firstly, we are packing in a corrugated pack and placing all these items in a wooden box. Our packaging process is carried out under the supervision of senior executives or transport experts with our professional staff and skilled personnel to pack and move customers' goods safely and securely. High-quality packaging equipment is used to avoid damage and brokerage during transit. All of your belongings will reach the destination with full protection.
Customer satisfaction
We have our own team of professionals to carry out the whole process. The correct packing method is used for different items and is transported with care. Executives also help to arrange items in a new home or location as per clients needs.
Working amidst COVID-19
Due to the global outbreak of the COVID 19 pandemic, most people are moving their homes to a safe location, and some of them are forced to return to their native place due to unemployment. There is therefore the need for Packers and Movers Ernakulam to help move their belongings to their intended destination. We are taking all the safety precautions given by government while working. It is really difficult to operate during this lockdown. We need to take the permission from government authorities in order for outer state travel.
FAQ
1) Why should I choose Packers and Movers Ernakulam?
Ans: Packers and Movers Ernakulam is a well-known and highly reliable brand in the packing and moving industry. We have highly trained personnel for packing, unpacking, loading, unloading, and transport of goods. We use the safest and most secure packing materials and containers to ensure the safety of the items that are being shifted.
2) When am I supposed to contact your moving company?
We have our team ready every time ,just you need to make us a call and confirm your convinient time for packing and moving in ernakulam from any other location
What is the price estimate for packing and moving?
Ans : Packing charge: Packing charge that includes packing materials and moving boxes. Labor charge: Labor charges for loading and unloading work. Transport Charge: There is a fixed basic price for transport. Depending on the distance, further charges will be added. Unpacking charge: This is for doing all the unpacking tasks at your new home. Other charges and expenses: If the destination is situated in another state, additional charges will be added for the procedures. .
4) How long would packing and loading take at my residence?
Ans: The time required for packing and loading depends on the number of items to be moved. However, it normally takes more than 3 hours to pack and load things for a 2 bedroom apartment..
5) What kind of vehicles are used to move items?
Ans: There is more than one type of vehicle used for moving and packing services. Whether carrying goods on a small or large scale, we have a variety of trucks, vans, and other vehicles to transport goods from one location to another for different types of consumer requirements.